"Devil May Cry:Peak of Combat" makes a surprise appearance in the TapTap press conference

2020-07-13
On July 10th in 2020,TapTap,together with more than ten game companies, hosted a cross-company mobile game press conference for the first time. The latest news of 17 games was announced, including "Devil May Cry:Peak of Combat", developed by NebulaJoy and officially authorized by CAPCOM.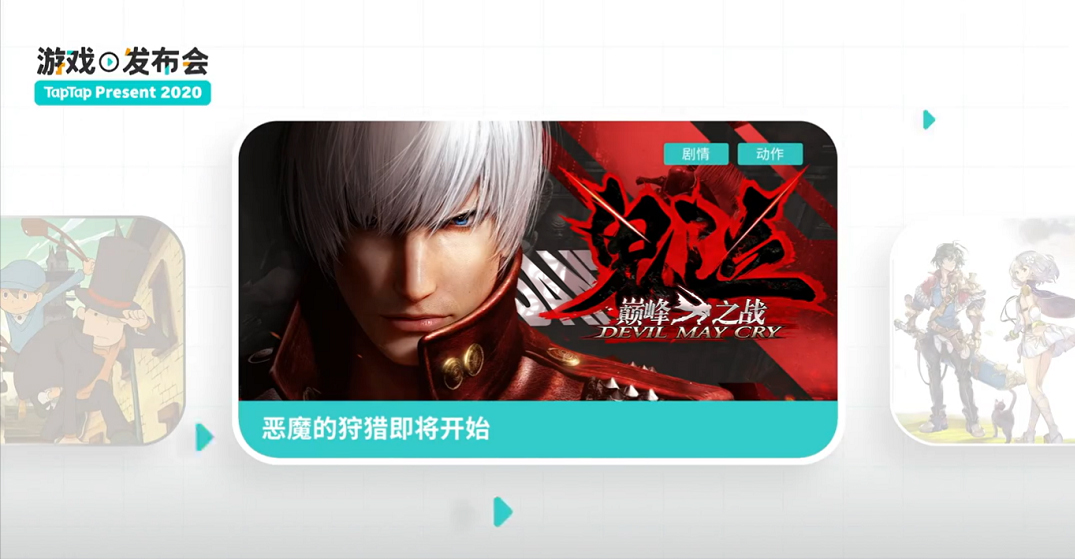 Competitive Game Quality
"Devil May Cry:Peak of Combat" is an S-tier action mobile game developed and operated by NebulaJoy, authorized and supervised by CAPCOM. As the first authorized Devil May Cry mobile game, "Devil May Cry:Peak of Combat" inherited the easy-to-build combo system and the gorgeous boundless fight style. By taking PBR workflow, this game's graphics reach the next-gen level. With the aid of the top-level motion-capture technique, players can be fully immersed in the game when performing combos. Combined with the perfect remake of those most iconic tricks in the Devil May Cry series, such as Stomp Kick, Demonize, and Parry, all this enables players to have a real 3A action mobile game experience.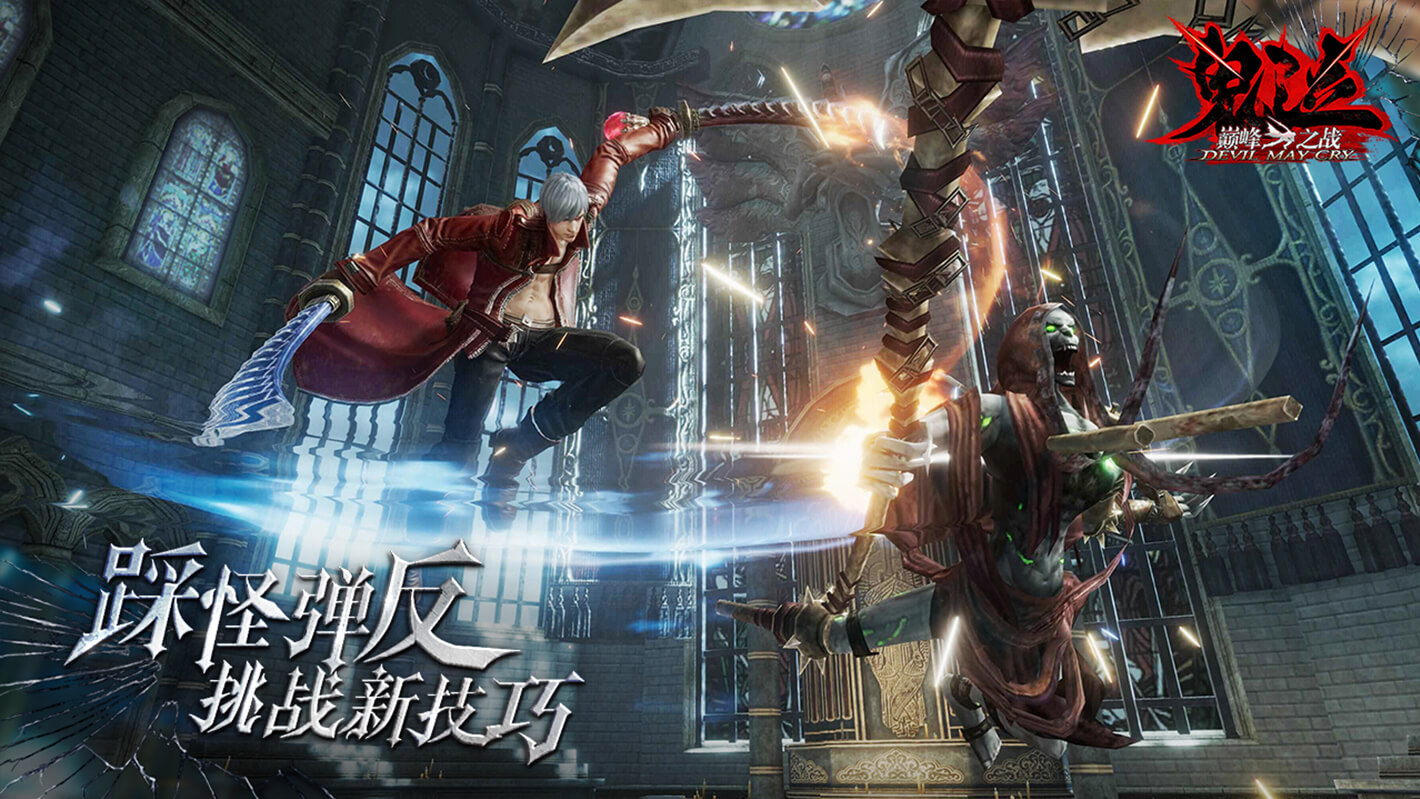 Once the promotion video of "Devil May Cry:Peak of Combat" was exposed, the game received many compliments from players and media. It also gained wide recognition from the TapTap community for its superior game quality. That positive feedback together brings this game a very high score and tons of subscribers.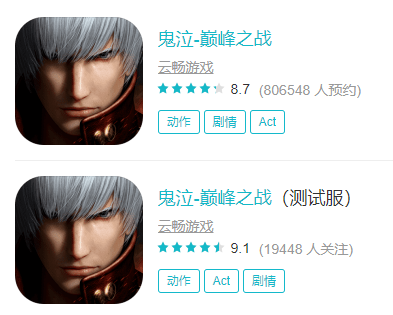 The Recognition from Global Game Giant CAPCOM
As everybody knows, as a game series with a 19-year history, Devil May Cry has defined a new game type, Stylish Action Game. Many players regarded Devil May Cry series as an unprecedented classic game. The creator of this series, CAPCOM, is a global game giant known for its numerous high-quality action games. With the affection of Street Fighter, Ace Attorney, Monster Hunter, Resident Evil, Meta Man, Okami, and many other games, CAPCOM played a significant role in the game industry.

"Devil May Cry:Peak of Combat", developed by NebulaJoy, is the first CAPCOM authorized Devil May Cry mobile game, and the first Devil May Cry game landed in China. Once the cooperation between NebulaJoy and CAPCOM was exposed, it received many supports and expectations from terminals, media, and players. It also won many rewards, such as the 2017 OPPO developer conference Most Anticipated Game, the 2018 Meizu Most Anticipated Game, mobile game cooperation with Honor 9x press conference, the 2019 Black Stone Most Anticipated Game, the 2019 OPPO developer conference Most Anticipated Game, the 2020 Golden Tea Award Most Anticipated Mobile Game. Recently it received the recommendation from the 2020 TapTap Online Press Conference.
Why would CAPCOM authorize the Devil May Cry IP to NebulaJoy, a young low-profile company?It is because it recognizes NebulaJoy's developing capability, and the appearance of "Devil May Cry:Peak of Combat" in TapTap press conference proved the correctness of CAPCOM's recognition.
The Brilliant Performance of ONE PIECE: Burning Will
The developer of DMC: Peak of Battle, NebulaJoy, is also the developer of ONE PIECE: Burning Will, a phenomenon mobile game co-developed with Ali games in 2018. Once One Piece: Burning Will launched, it soon reached the top on all terminal's leaderboard, achieved a monthly water bill of more than 100 million, and accumulated more than 50 million players by keeping long-term operation method for more than two years.

Founded in 2013, NebulaJoy is a company mainly develops mobile game but can also operate and publish. NebulaJoy has the vision to become a world-class game company and bring players the ultimate entertainment experience. NebulaJoy landed NEEQ in Dec 2015,so far has more than 400 employees located worldwide, for example, Beijing, Xi'an, Hongkong, and Japan. Its core members are all from well-known game companies and internet companies. NebulaJoy has abundant experience in developing, publishing, and operating, successfully crafted several S-tier mobile games, such as Sword Art Online: Black Swordsman, Degenerate-II, and previously mentioned ONE PIECE: Burning Will. The quality of games of NebulaJoy received wide recognition from the game industry, and thus NebulaJoy won the title of Global Partner with Tencent and many awards from Hardcore Alliance.
Now NebulaJoy has entered a steady and rapid development period. If you love games and want to explore and create a brand-new game world with us, then welcome to join the project team of Devil May Cry-Peak of Combat. Let us set out right now and strive for the goal of making a Chinese 3A game.
Contact us at zhaopin@game2sky.com (jobs listed below)
Open positions in the project team of "Devil May Cry:Peak of Combat":
Game Balance Designer, Senior Combat Designer,Narrative Designer, Execution Designer, Level Designer, 3D Special Effects Artist, 3D Character Artist, Client Programmer, Server Programmer