Interview of Bobby Gao (Gao Yunzheng): the Development of Animation and Game Industry International Forum of 2020

2020-09-10
On September 7th in 2020, the Development of Animation and Game Industry International Forum was cooperatively hosted by Beijing Municipal Bureau of Culture and Tourism, Beijing Cultural and Creative Industry information service platform, Management committee of Beijing economic-technological development area, also with the organization from Beijing Animation and Game Industry.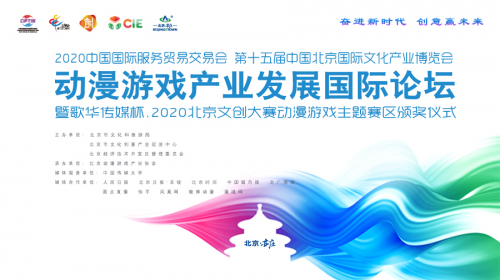 More than 300 people attended this forum, including entrepreneurs, investors, journalists, animation, game lovers and greatly influential experts from abroad and China, as well as the inspector I from Publicity Department of Beijing Municipal Committee of the Communist Party of China, the director of Beijing Cultural and Creative Industry information service platform—Mei Song; party members, deputy director and level-1 inspector—Zhang Youling from China Council for the Promotion of International Trade Beijing Sub-Council, members of CPC group and deputy director—Cao Pengcheng from Beijing Municipal Bureau of Culture and Tourism, deputy director—Zhao Enguo from Beijing State-owned Cultural Assets Administration Center, Party working committee member and the minister of Cultural and Promotion Department—Zhao Yajuan, Beijing CPC promotion administration, Beijing Municipal of Radio and Television Bureau, State-owned Cultural Assets Administration Center and Beijing Industrial Design Center.
The game industry is a sunshine industry with limitless potentiality. It shows that in Beijing animation and game industry, there's an incessant growth in the aspects of developing different styles, quantities of games, distinguished subjects, market size and the number of employees. Although COVID-19 has to some degree impacted the industry during the first six months of 2020, the industry still maintained a growth rate of nearly 30%. The animation game industry is undergoing profound changes.
Upon the topic of this forum, the development of new trend and direction of animation and game industry, the host has interviewed Bobby Gao, the CEO of NebulaJoy
and an expert in this industry.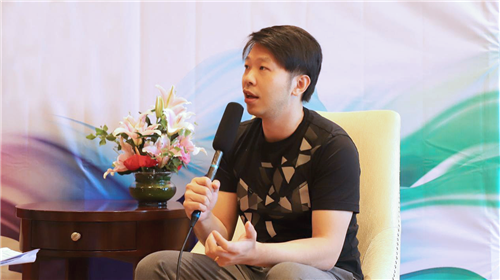 CEO of NebulaJoy: Bobby Gao
Photo by Zuo Peng
Host:In the realm of domestic games, how do you think can we improve the games on high-quality standards?
Bobby: As a developer, the initial step of improvement is "Recognition of Craftsman", I think. The definition of so-called "Recognition of Craftsman" is that the developers should dedicate to their original intention by asking themselves about the genuine reasons of being employed in this industry. When I finished my college study, I had been determined to develop some game really alluring enough. I've played quite a few classical games since young and filled with yearnings as well as respect. Naturally I desired to develop an equivalent classical game as I played before so as to tell the predecessors that I have literally inherited their creations. That is my initial intention, also the drive for me in pursuit of higher-quality products.
It's just like some old craftsmen who made knives of Tang Dynasty and traditional Chinese paintings. Besides the skills, these old fellows taught the pupils that the most significant thing is not to forget the essence of "Recognition of Craftsman", the initial intention of being one member in this industry.
In my viewpoint, only if every member keeps their initial intention and "Recognition of Craftsman" in mind can the games become high-end. With members' "Recognition of Craftsman" as well as incessant technique improvement and production capacity, the products can just be satisfactory and embody specific Chinese high-quality pursuit.
Bobby: In the field of representing new-trend of Chinese game industry, first of all, I think myself to be the one with good fortune. Why? There are two main points. First of all, with government's concern and supported policies, we can be more committed to do researches and productions of the products.
Secondly, a number of gamers have more needs than before. When I was playing games several years ago, there weren't many game choices for the gamers, not to mention that only few people could surf the Internet. Staying in Internet Cafés considered to be main domains for entertainment, most gamers played The Legend or The Journey these two traditional domestic MMORPG games.
Yet, for the youngsters born in 1990s or 2000s and grown up with sophisticated Internet, they've gone through what we never experienced before, such as Hollywood movies, Japanese animation, comic books, high-quality domestic animation and various types of games, which derives a trend towards high-quality products whose market and gamers are going to be much better than the ones were for decades ago. Thanks to the market, the employees are enforced to produce high-quality products, which forms a benign cycle that is undergoing gradual establishment and accomplishment. The development of domestic game industry is still from that of the US and Japan. Yet, as far as game making is concerned, just as I've mentioned, the production team members must always remind themselves of Recognition of Craftsman and constantly improve their skills to generate more high-standard games. With the help of potential markets and supportive policies, there's definitely a good vision for domestic game industry. This is the inevitable trend of the development of domestic game industry.
Host: How do you think about the development of China's video games in the globalized international surroundings?
Bobby: I think this industry might be under the minimum impact of globalization. It's on the Internet thus is generated with inherent globalized elements since the very beginning. When we haven't implanted the concept of globalization to games, the games have already implied this concept. Different from any other products, the game has its unique cultural language which can be comprehended by different people no matter what kind of different region cultures are, such as different religions all around the world, customs and habits, social relationships and so on. Yet, when you're playing games, you won't consider the differences mentioned above to be obstacles. The better a game is, the easier the players can break through cultural differences. We can say that the game is a prominent carrier of globalization since the most successful cultural export has been done by game companies from the very beginning. If you're asking about the development circumstances of China games in the world, I'd say that it's a good timing now.
First, we have to produce satisfying products carrying Chinese culture abroad. Then import inspiring foreign goods to elevate our skills of games development methods. Accompanying with the trend of globalization, we're able to recognize advantages of other game companies. In the past, for example, we tended to choose certain subjects such as martial arts, fantasy or history. I recommend we select other kinds of subjects in line with international game industry, such as science fiction or magic.
We can produce games merging all kinds of elements inside and then promote them abroad to stimulate the industry positively. With this approach, our foreign peers may take a glimpse of magnificent Chinese traditional culture and a benign culture in the game industry so as to keep our domestic game brands in mind. When I was young, I knew the brands of CAPCOM and NINTENDO. I have faith that there will definitely be some game manufacturers well-known worldwide, not to mention that NebulaJoy have great potentialities to be one of the best.